Cher(e) Abonné(e),

Le jeudi 28 avril 2022, nous vous proposons 1 New(s) qui peu(ven)t vous intéresser: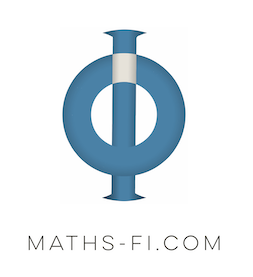 Réseau Maths, Finance & Big Data sur LinkedIn : +29.800 abonné(e)s merci ! Rejoignez-les maintenant
Maths-Fi vous souhaite une journée enrichissante et vous propose aujourd'hui d'accéder à la fois :
aux enseignements les plus pertinents en Data Science rechechés par les entreprises

à de nouvelles opportunités professionnelles pour des profils Junior et Senior au sein de structures au coeur de l'écosystème Quant Finance & BigData
________
[Objectif Data Scientist 2022] Mastère Spécialisé® Expert en Sciences des Données de l'INSA Rouen Normandie en alternance - Rentrée Octobre 2022

Mots clés : #BigData #IA #Datascientist #Dataviz #AnalysePredictive #Deeplearning #rncp
MS® en ALTERNANCE Data Science
Formation enregistrée au RNCP
Rentrée en octobre 2022
Futurs Data Scientists, sécurisez votre parcours, inscrivez-vous maintenant
Profil recherché : Profil mathématiques ou informatique avec un bagage mathématique
Vous connaissez le MS® : Futurs Data Scientists, téléchargez votre dossier d'inscription ici
Puis envoyez-le dûment complété à entreprises@insa-rouen.fr
________
L'INSA Rouen Normandie, première école publique d'ingénieur-e-s en région largement reconnue sur son territoire et au national propose depuis 2015 le Mastère spécialisé® Expert en Sciences des Données en Alternance.
✔️ Ce MS® qui forme en 1 an principalement des Data Scientists opérationnels, répond en effet aux besoins en compétences actuels et à venir des entreprises et des institutions du secteur privé ou public.

✔️ Objectifs de la formation : apprendre à développer des outils innovants de représentation, de modélisation permettant la création de plus value et la prise de décisions utiles à partir de données.
________
[MS® ESD - INSA ROUEN NORMANDIE] Développez les compétences recherchées par les entreprises
Statistiques & Optimisation, Machine Learning, Programmation BD Massives... découvrez le programme très complet du Mastère spécialisé® Expert en Sciences des données de l'INSA Rouen Normandie
Parmi les atouts majeurs de votre MS®
✔️ Datascientist en 1 an en alternance
• L'apprenant est rémunéré, l'entreprise accueillante prenant en charge le coût de la formation
✔️ Insertion professionnelle dans le secteur d'activité visé
✔️ Application concrète des principes vus en formation
✔️ Certification RNCP Niveau 7


Paroles d'Experts : retrouvez les témoignages de
C. Pineau, Chief Data & Analytics Officer BNP Paribas Real Estate et N. FERAY, Sous-Directeur des Systèmes d'informations, HABITAT 76

Programme & P.E : cliquez maintenant
Téléchargez votre dossier d'inscription
Puis envoyez-le complété à entreprises@insa-rouen.fr
Informations : INSA Rouen Normandie
________
[Nouveau !] Carrière Quant IA Big Data à l'ESM - European Stability Mechanism (MES - Mécanisme Européen de Stabilité), basée au Luxembourg.
#derivatives #5-yrs-experience #quant #finance #FO #equity #python #MSc #PhD #Master #Engineer
Apply Now: Experienced ALM Officer - Luxembourg - Four-year fixed term contract
_________
The ESM is the crisis resolution mechanism for euro area countries, an unique place to work with around 210 individuals from around the world committed to making a difference to the future of the euro area. It recruits talented professionals of any nationality from both the private and public sector.

✔️ Experienced ALM Officer -4-year fixed term contract + possibility of extension - Luxembourg

The ALM and Financial Structuring team monitors, manages, and reports the financial risks (liquidity, interest rate, and foreign exchange) generated by ESM/EFSF activities on- and off-balance sheet; it also performs the cash management function. In this role, the experienced ALM Officer will assess and manage structural risks related to EFSF/ESM balance sheet mismatches, especially liquidity gaps, propose strategies to mitigate them, and participate in relevant management activities.

Among the key accountabilities

✔️Monitor EFSF/ESM structural risks (liquidity, interest rate, and foreign exchange);
✔️Define appropriate strategies and instruments to mitigate risks arising from the EFSF/ESM's liquidity profile;
✔️Manage issues and formulate advises related to the use of derivative instruments;
✔️Participate in the implementation of ESM guidelines on risk reduction measures for beneficiary Member States;
✔️Refine existing quantitative models and, if required, build new ones to efficiently and reliably forecast and measure the liquidity positions of EFSF/ESM or other financial risks;

Key background & experience

✔️MSc/Master/PhD/Engineer in finance, maths, quant analysis, economics.
✔️At least 5-year experience in ALM, investment, treasury and/or risk management, preferably acquired in a financial services environment
✔️Capacity to code in VBA, Python or another programming language is strong asset
✔️A professional qualification, such as FRM, CFA, BTRM or CA/ACA/ACCA/CPA is an asset
✔️Excellent oral and written English skills, additional languages are an asset

Application Deadline: 19 Mai 2022
Work at ESM - Watch Video
More information/Apply Now
_________
#PhD #postdoc #datascience #quant #MonteCarlo #python #pytorch #probability #computerscience
Postdoc Position - Paris
Date of publication: 12 April 2022
Start Date: ASAP

The Quantitative Finance Group of Université Paris Cité invites applications from talented PhDs with expertise in Mathematical Finance or Data Science, for a 2-year postdoctoral research position starting as soon as possible. The position is funded by the Chair Capital Markets Tomorrow: Modeling and Computational Issues.

► The priority areas of research should concern supervised learning methods in finance, generative methods, Monte Carlo simulation methods, stochastic approximation algorithms, backward stochastic differential equations.

►The research will be conducted under the co-supervision of: Stéphane Crépey (LPSM/Université Paris Cité), Lokman Abbas-Turki (LPSM/Sorbonne Université), & any members of the LPSM team "Financial & Actuarial Mathematics, Numerical Probability" relevant for the targeted research project (to be fine-tuned depending on the selected candidate).

✔️Collaborative research with younger (PhD) students is encouraged.

✔️ Some interaction (discussions and exchange) with the quant teams of Crédit Agricole CIB is expected.

► Conditions to apply


✔️ PhD (or defense by the Summer) in maths, data science, computer science, with publication in the top academic journals in the fields.

► Prerequisites

✔️ Theoretical background: Stochastic analysis or Statistics,
✔️ Domain knowledge: Quantitative finance or Data science,
✔️ Programming skills: Python/Pytorch or C/Cuda,
✔️ Languages: Fluent English (spoken and written). French welcome but not mandatory.

►Location : LPSM, Sophie Germain building of Université Paris Cité, 8 Place Aurelie Nemours, 75013 Paris

►Scientific environment: The Emile Borel heritage Laboratoire de Probabilités, Statistique et Modélisation, i.e. more than 200 researchers, faculty members and PhD / postdoctoral students in the heart of Paris (sites Sophie Germain and Jussieu), covering together the whole spectrum of modern probabilities and statistics in six teams, all at the highest international level.

►Remuneration: Gross monthly salary > 3500 euros, depending on experience.

►Applications: Until completion of the position Apply Now!

Please send CV and cover letter to Stéphane Crépey (crepey@lpsm.paris)
________
[Formats FOCUS 3C - Maths-Fi et BigDataFR] Connaître - Comprendre - Choisir

jeudi 16 juin 2022

Le Focus Formation de Maths-Fi & BigDataFR a pour vocation la transmission d'éléments précieux :

aux futurs candidats, pour le choix de leur parcours d'excellence en Maths, Finance ou Data Science;
aux recruteurs, pour le choix de leurs futurs collaborateurs ou des formations à acquérir pour être opérationnel dans le domaine de leur choix et booster leur carrière

Le Format "Focus Formation" :


Mieux connaître une formation, un diplôme, un établissement
en comprendre les enseignements pour
mieux choisir ce qui correspond à l'évolution que vous souhaitez donner à votre carrière

Les Formats "Focus" de Maths-Fi & BigDataFR se déclinent en 4 thématiques : Formation, Business, Recrutement et Event.

Vous souhaitez communiquer sur votre structure ? Contactez-nous pour vérifier les disponibilités !

Statut com :

Inscriptions 2nd Semestre

2022 : C'est parti !

Format Focus Maths-Fi - Infos-devis
Format Focus BigDataFR - Infos-devis
_________
[Rentrée en octobre 2022] Data Scientist en 1 an : Inscrivez-vous au Mastère Spécialisé® Expert en Sciences des Données de l'INSA Rouen !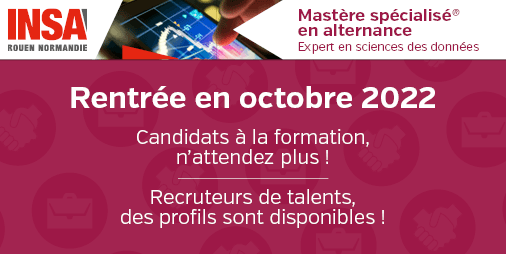 MS® en ALTERNANCE Data Science
Formation enregistrée au RNCP
Rentrée en octobre 2022
Futurs Data Scientists, sécurisez votre parcours professionnel, inscrivez-vous maintenant
Profil recherché : Profil mathématiques ou informatique avec un bagage mathématique
Futurs Data Scientists, téléchargez votre dossier d'inscription ici
Puis envoyez-le dûment complété à entreprises@insa-rouen.fr
________
_________
| | |
| --- | --- |
| | |
| | |
| | |
| | |
---